/ / / / / / /
NIKOLIN BUJARI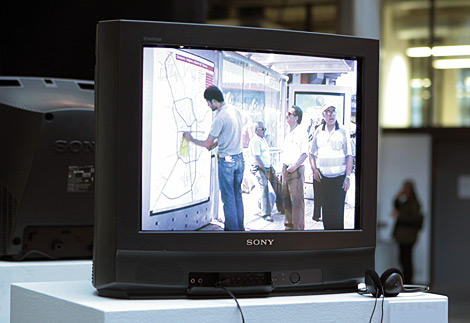 Foto: Evi Künstle
Bus Stop
Aktion, 2006
Video auf Monitor oder als Projektion
The actions of Nikolin Bujari, which take place in public spaces, are characterised by a neccessity, an urgency, or if we like, an insurgency to the reality of the situation in which the artists decide to take action. Nikolin highlights all the defects of his subject through change, the adding or substraction of the elements in an undue way. Gathering strength in an instinctive manner, in the school of disturbances, his interventions make a mess of the rules that were pre-established from above but not embraced from below, giving back a new image: that of the real and sincere needs of the common people.
/ / / / / / /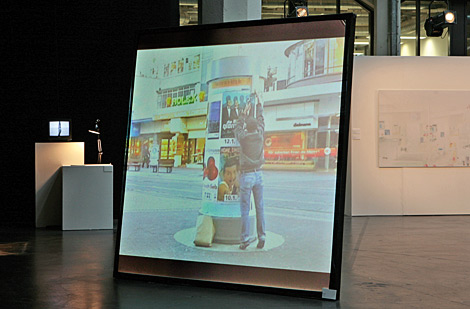 Foto: Evi Künstle
Karlsruhe Intervention
Aktion, 2007
Video auf Monitor oder als Projektion
It's obvious that the information system here is well defined; but, when you notice that everywhere is served the same information like in public, private spaces even in toilets it becomes visible that this information comes to you violently. By having the same abusive manner comes a moment when they lose their proper function.
/ / / / / / / Hoch